The Pettys
Main Content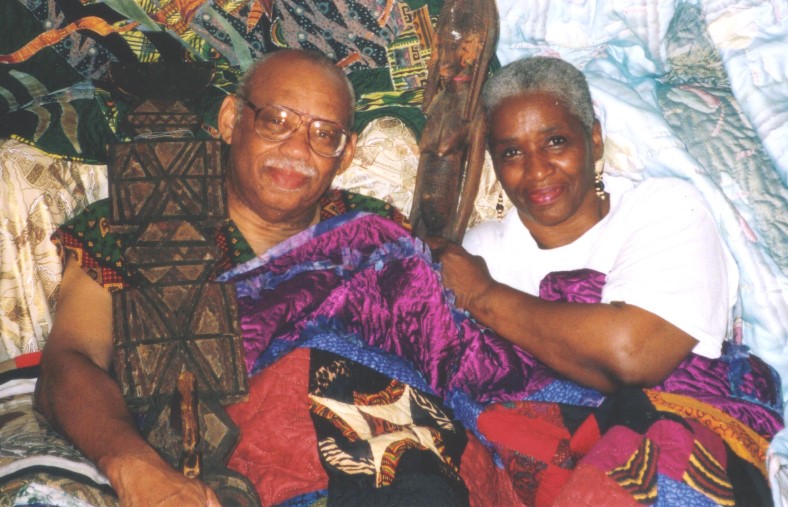 Mr. Reginald Petty & Mrs. Edna J. Patterson-Petty
(Photo: Najjar Abdul-Musawwir)
Reginald Petty is an avid African Art collector, a passion he developed during his tenure as an administrator in the Peace Corp in Africa. He was born and grew up in East St. Louis, Illinois. He studied at the University of Chicago and Southern Illinois University, Carbondale, where he received B.A. in Sociology and M.A. in Education, respectively. His career in the Peace Corp, from the sixties through the seventies into the early eighties, becoming African Regional Director, exposed him to African culture first-hand. As he traveled through Africa and lived in various newly independent countries, his appreciation for the people, art they produced, and their relation to African Americans were affirmed and deepened. He collected African art pieces not only because they were exceptional objects of cultural value and beauty, but also because they awakened in him a sense of self, cultural identity, and were visual cultural historical texts. His experiences visiting almost all Africa countries and islands have been etched on his psyche and best expressed in the following words:
The musicians played balaphones, which are similar to vibraphones and they were accompanied by drummers. While the musicians played various melodies, individuals would stand and tell stories, some of which were about specific events that took place in their lives. Some were traditional stories and the musicians played traditional rhythms of the stories. I watched and listened in amazement: The Blues, African style. All I could do was shake my head and tap my feet. I felt at home (Petty, 2001).
The performance he participated in presented a performance tradition in musical arts, verbal arts, the stories, and visual arts in sculptural forms, the balaphone and drums, just to mention three. It captured the essence of Africana arts which are communal, visual, spatial, and sometimes temporal. They are also intellectual in that the stories drawn from history and experience can be didactic and express philosophical underpinning of African society and a holistic worldview articulated in the Yoruba proverb that says "there are many entrances to the market," or in an Ewe one: Three heads are better than one.
Reginald Petty has been engaged in issues dealing with Africana in America and Africa since the 1960s. In August 1962, he was president of the Chicago Council of the African American Heritage Association (AAHA) that brought Mrs. Christine Johnson, national president of AAHA, to Chicago to "report on her tour of Africa" (Chicago Daily Defender, August 8, 1962:4.). Earlier on in February 1961, the Council of the AAHA under his leadership sponsored "Negro History Week: February 12-19," during which Mayor Richard J. Daley made a proclamation received by Alderman Benjamin Lewis (24th Ward) and Claude W. B. Holman (4th Ward) that stated the purpose of the week was "to call attention to the contributions made to [America] by Negro Americans and emphasize the un-Americanism of racism . . . and to promote greater harmony among people of all races and creed" (Chicago Daily Defender, February 9,1961:12.) Again in 1962, Chicago Council AAHA under Reginald Petty's leadership created DuSable Week, August 19-25. Petty declared:
"Only anti-Africanism, rationalized by lies about race to make possible anti-human discrimination, segregation and Jim Crow, can explain the failure of the citizenry of Chicago to give appropriate recognition and honor to the city's first settler. By establishing the annual DuSable Week, the AAHA is affording the city fathers and the Catholic Archdiocese to make amends for practically burying and ignoring the city's first settler and illustrious Catholic of African descent that founded one of the foremost cities and industrial complexes in the world. Our organization feels certain that the whole city will be appreciative of its proposal in honor of Chicago's first settler" (The Chicago Defender, July 14,1962: 4.)
African Art collector, East St. Louis city historian, and a civil rights leader who marched with Dr. Martin Luther King, Jr. and worked with Nelson Mandela, Reginald Petty continues his activism even at 84 and affirms his commitment to civil rights even now in a wheel-chair with a megaphone in hand. His participation in a Black Lives Matter (BLM) protest outside East St. Louis City Hall on June 18, 2020, recalls his involvement in the Civil Rights Movement of the Twentieth Century, especially in Jackson, Mississippi, where he was arrested 36 times working for voter rights. Exactly a month earlier, before the passing away of titans of civil rights, Congressman John Lewis and Rev. Cordy Tindell Vivian on July 17, 2020, "the legacy of protest movements" and mantle were being bestowed to the next generation. In words and action, Petty encouraged participants in the BLM protest to follow the trajectory of almost half-a-millennium struggle and Africana march towards real freedom, equality, and justice into the Twenty-first Century:
"The question that you're going to have to ask yourself is who's going to be the next Jesse Jackson or Martin Luther King Jr. of your generation? I'd like to apologize on behalf of my generation for putting this stuff on you because there's more work to do, and especially in East St. Louis because we need more businesses" (Belleville News-Democrat, June 18, 2020).
Importance of legacy is also to be found in Reginald Petty's commitment and fervent effort that his African Art Collection is used to educate. Most of the art pieces in the collection were used originally for that purpose in the first place and so he continues the mode and tradition. He, therefore, utilizes the pieces in a traditional manner in the African Diaspora and in American society. Although retired, he uses the art pieces himself in lectures in schools, especially in East St. Louis, Chicago and surrounding areas, to give pupils insight into African/African American culture, Africana culture, and a peoplehood that span millennia and continents.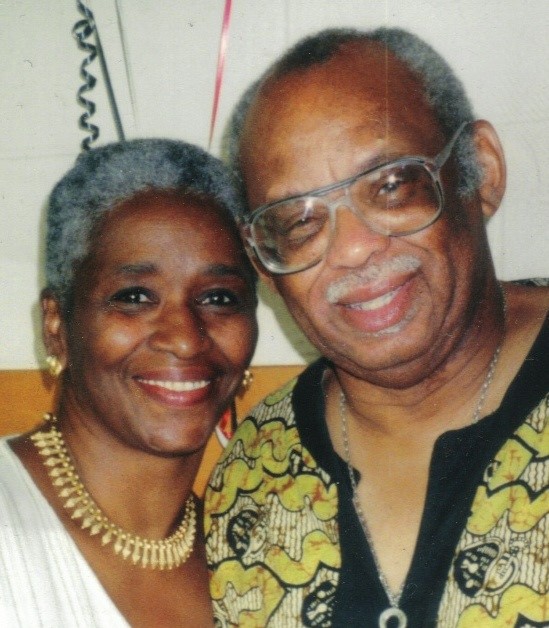 Mr. Reginald Petty & Mrs. Edna J. Patterson-Petty
(Photo: Najjar Abdul-Musawwir)
Edna J. Patterson-Petty is an artist and an art therapist. She is an East St. Louis native and studied at Southern Illinois University, Edwardsville, earning M. F. A. in Studio Art and another M.A. in Art Therapy. She has exhibited her quilts and sculpture pieces nationally and internationally and designed mosaic pieces that adorn two MetroLink stations in East St. Louis, one in Fairview Heights and a third one in St Louis Lambert International Airport. Childhood lessons in sewing from her mother gave her early preparation and skills that were honed into masterful craftsmanship. Surrounded by African Art collected by her husband, Reginald Petty, inspiration from the art pieces and society liberate and spur her creativity. Psycho-healing prevalent in Africana arts and spirituality associated with the conjuration tradition are manifested in her works. Patterson-Petty's creativity brings into focus the global character of Africana aesthetics: My trip to Dakar, Senegal, further validated me in many ways; such as who I am as a person, what I am as an artist, and defining my creative process, the visions, the dreams, the feelings of being one with the art until it is finished (Belleville News-Democrat, 2002: 1C). Indeed, Patterson-Petty's artistic endeavors affirm Babatunde Lawal's assertion that:
[T]he African heritages in the visual arts have not been fossilized; they have been responding positively . . . to the dynamics of geography, modern technology, politics, economics, race relations, and social change, . . . to the creativity and inventiveness of the African American soul. (Lawal 2000, 46)
With her feet planted firmly in Africana artistic traditions, her works are emblematic of the continuity of Africana culture that is inherent in the arts as they preserve cultural traditions even though the social context of traditions may change and affirm the humanity of all of African descent.
Eighteen years ago, after my in-person introduction by Rev. Dr. Joseph Brown, SJ, to the Pettys, they opened their home to me. Mr. Reginald Petty shared with me his African Art Collection and experiences in Africa, while Mrs. Edna Patterson-Petty showed me through her works that African cultural continuities, sometimes disputed, are inherent in the daily lives of many in the African Diaspora. In their home, one finds visual cultural conversation within Africana anchored in the past while bestriding the present and the future. It generated the exhibitions, Conversation 2.0 and, eighteen years earlier, Conversation, in 2002. These exhibitions are products of their generosity and we are grateful. The Pettys are SIU alumni and celebrate SIU@150 and beyond with other SIU Alumni, students who will become future alumni, all of SIU, and the communities that support SIU.
Leonard Gadzekpo
In Spirit: Masks and Eyes of Smiles with Miles Davis in East St. Louis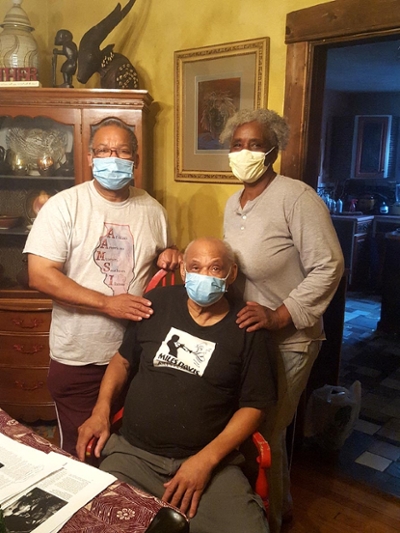 Reginald Petty (seated), Edna Patterson-Petty (standing, right), Najjar Abdul-Musawwir (standing, left). (Photo: Leonard Gadzekpo)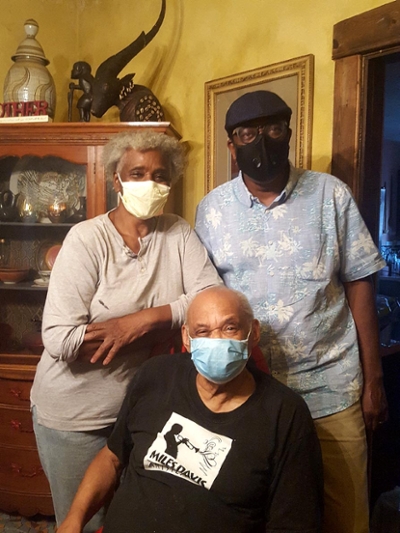 Reginald Petty (seated), Edna Patterson-Petty (standing, left), Leonard Gadzekpo (standing, right). (Photo: Najjar Abdul-Masawwir)